Affordable and Luxury Signage
for your Wedding
We launch a new 'Premade Collection' on a regular basis.
Inside each collection, you will find everything you need for your wedding.
You can edit the words / the font colour and
even the font style so it is personalised to you.
Everything is printed in house and we ship everything to you.
Ordering with Mally's Crafts is Easy!
Just 4 steps is all it takes to order with Mally's Crafts.
Step 1
Select your Product / Theme
Step 2
Personalise & Checkout
Step 3
We Manufacture & Print
Step 4
We Pack & Ship to You
If you're looking for a bespoke signage,
something to perhaps match your invitation.
We offer a bespoke service where a member of the team will work closely with you to get the perfect end result.
Once you're happy with the design, we will then print and dispatch to you.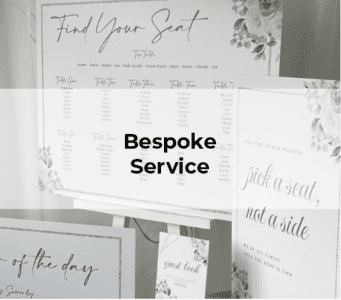 Handmade with Love
Everything you see here is all handmade by us here at Mally's Crafts.
Ordering to Dispatch
We have a turnaround timescale which varies from time to time. Please order well in advance of any events.
New Products Added Daily
A new wedding bundle is added every Sunday however lots of personalised gifts are added daily. Keep checking back!
See Estimated Delivery Date at Check out